Ever Wondered How BitTorrent Works?
What is Torrent?
A torrent is a fast flowing stream.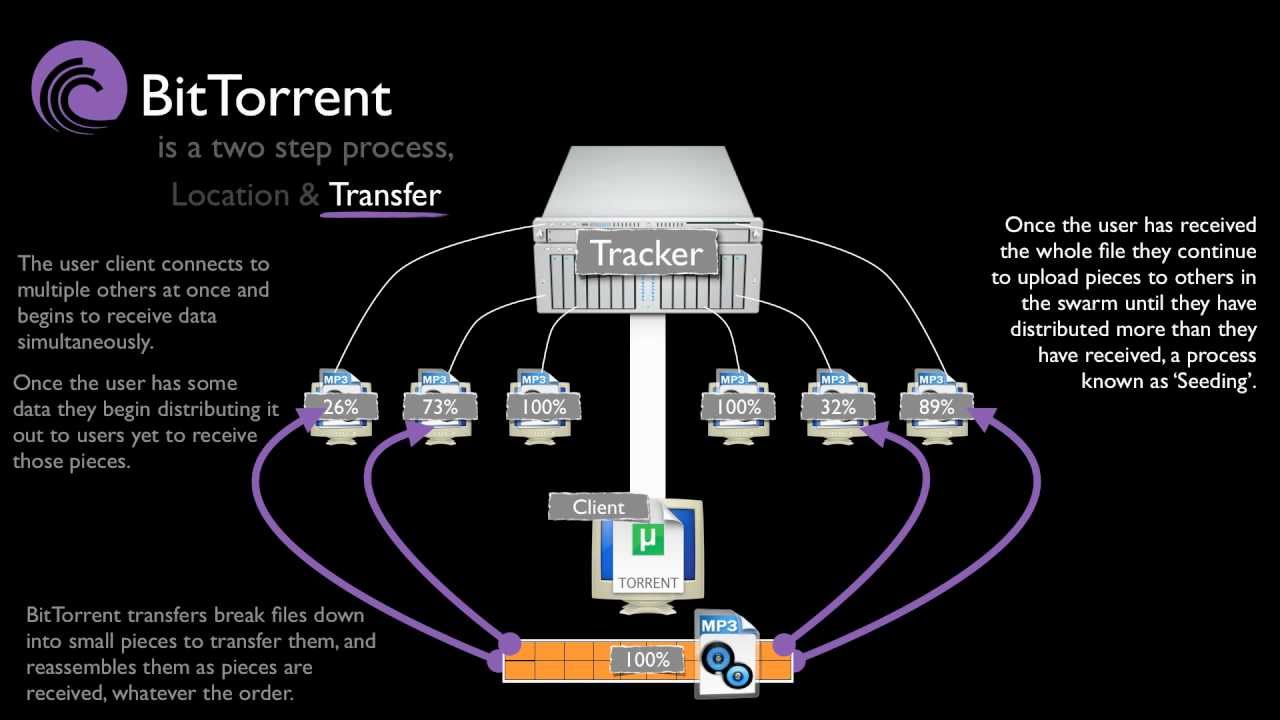 What does BitTorrent Means?
BitTorrent is a communications protocol of peer-to-peer(P2P) file sharing which is used to distribute data over the Internet. BitTorrent is one of the most common protocols for transferring large files, and peer-to-peer networks have been estimated to collectively account for approximately 43% to 70% of all Internet traffic.
Programmer Bram Cohen, a former University at Buffalo student, designed the protocol in April 2001 and released the first available version on 2 July 2001, and the most recent version in 2013. BitTorrent clients are available for a variety of computing platforms and operating systems including an official client released by BitTorrent, Inc.
What do you get on BitTorrent?
BitTorrent is file sharing website where you may get all pirated films, games, software, etc for Free of Cost.
BitTorrent may be popularly known as a method of piracy, but it isn't just for pirates. It's a useful, decentralized peer-to-peer protocol with significant advantages over other protocols in many situations.
Why BitTorrent is just not considered as a normal file sharing websites?
BitTorrent is a protocol that enables fast downloading of large files using minimum Internet bandwidth. It costs nothing to use and includes no spyware or pop-up advertising.
Unlike other download methods, BitTorrent maximizes transfer speed by gathering pieces of the file you want and downloading these pieces simultaneously from people who already have them. This process makes popular and very large files, such as videos and television programs, download much faster than is possible with other protocols.
The BitTorrent protocol has downloaders help send the file to other downloaders, reducing the burden on the original owner. This usually results in all participants downloading the file faster.
Example: Consider that your friend have to download a file of 10GB in size. When you request the server by GET Method to the server, Because BitTorrent breaks up and distributes files in hundreds of small chunks, you don't even need to have downloaded the whole file before you start sharing. As soon as you have even a piece of the file, you can start sharing that piece with other users. That's what makes BitTorrent so fast.
Why Downloading files from BitTorrent is so Anonymous?
In order to download a file like eg: Any Pirated movie or software you have to find and download a torrent file (which uses the .torrent file extension) and then open it with your BitTorrent client. The torrent file does not contain your files. Instead, it contains information which tells your BitTorrent client where it can find peers who are also sharing and downloading the file. BitTorrent client downloads your file by finding the nearest people who downloaded those file, Maximum number of seeder Faster your file gets downloaded. So keep seeding after you download a file from BitTorrent.
What makes Torrent so fast?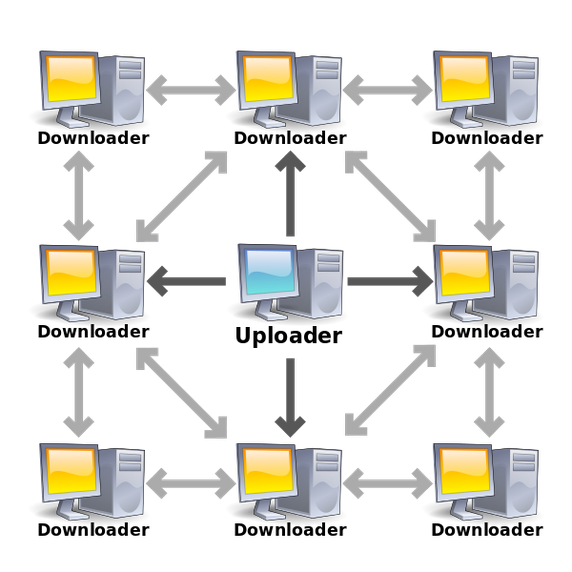 BitTorrent client downloads bits of the files in the torrent in small pieces, downloading all the data it can get. Once the BitTorrent client has some data, it can then begin to upload that data to other BitTorrent clients in the swarm. In this way, everyone downloading a torrent is also uploading the same torrent. This speeds up everyone's download speed. If 10,000 people are downloading the same file, it doesn't put a lot of stress on a central server. Instead, each downloader contributes upload bandwidth to other downloaders, ensuring the torrent stays fast.
what is the difference between Normal Downloading and BitTorrent(P2P) Downloading
More about seeders and Peer
It's quite simple, really.
Seed is a person who has a torrent file open in their client (let's say the same file you are trying to download) and the only difference between you and them is that they have the complete file downloaded already and are now "seeding" – sharing the file with peers but not downloading any parts of the file from others.
Peer (also called leecher) is the same thing, except they don't have the complete file yet. However, peers still share whatever part of the file they already downloaded with other peers who might be missing that part (the file itself is fragmented into tiny pieces that are then shared).
So basically, you're a peer until you have 100% of the file downloaded. As a peer you download the fragments of the file from other peers and also seeds. You only share with other peers, since seeds already have everything and don't need anything from you. Then when you close your torrent client or remove the particular torrent from your queue, you stop being included in the torrent seed/peer numbers.
Number of peers simply shows you the number of unique people trying to download the same file as you. Having peers is not enough, though. Usually you'd need at least one seed, ideally more. Otherwise, it might be hard or even impossible to get 100% of the file just from other peers. Some portions of the file would probably be missing (none of the peers would have certain fragments) and without a seed, there would be no way to fill in these blanks.
What makes BitTorrent still the best?
Unlike most P2P networks, torrents stand out for 5 major reasons:
Torrent networking is NOT a publish-subscribe model like Kazaa; instead, torrents are true Peer-to-Peer networking where the users themselves do the actual file serving.
Torrents enforce 99% quality control by filtering out corrupted and dummy files, ensuring that downloads contain only what they claim to contain. There is still some abuse of the system, but if you use a community torrent searcher like www.isohunt.com, users will warn you when a torrent is a fake or dummy file.
Torrents actively encourage users to share ("seed") their complete files, while simultaneously penalizing users who "leech"
Torrents can achieve download speeds over 1.5 megabits per second.
Torrent code is open-source, advertising-free, and adware/spyware-free. This means that no single person profits from torrent success.
Some Website where you will find .Torrent files
Don't forget to seed..:)