How to Install Fedora 25 on Virutal player or VMware
Fedora is an operating system based on the Linux kernel, developed by the community-supported Fedora Project and sponsored by Red Hat. Fedora contains software distributed under a free and open-source license and aims to be on the leading edge of such technologies.
As of February 2016, Fedora has an estimated 1.2 million users including Linus Torvalds, creator of the Linux kernel.
Fedora has a reputation for focusing on innovation, integrating new technologies early on and working closely with upstream Linux communities. Making changes upstream instead of specifically in Fedora ensures that the changes are available to all Linux distributions.
Recently Fedora 25 workstation has been released
Fedora 25 stakes out leading edge, not bleeding edge The latest version of Red Hat's Linux distribution brings features like the Wayland graphics server, and explores the line between stability and innovation
Best Features of Fedora 25
GNOME 3.22
The default environment comes courtesy of the GNOME community. They've put a great deal of effort into the newest 3.22 release. Examples of improvements include:
Multiple file renaming in the Files app
Integrated compressed file capabilities in Files
New, redesigned keyboard settings tool
Revamped landing page in the Software app
Easier category browsing in Software
Variable speed playback in Videos
…and much more!
Wayland display server
Wayland now replaces the old X11 display server by default. Its goal is to provide a smoother, richer experience when navigating Fedora Workstation. Like all software, there may still be some bugs. You can still choose the old X11 server if required. After selecting the login user, use the settings icon to switch. But this newer display server is designed to keep up with the modern OS and hardware.
Fedora Media Writer
The new Fedora Media Writer makes it easier than ever to download and install Fedora Workstation. You can also use it to download and install other Fedora editions, Spins, or Labs. This tool helps you find and download the current Fedora release and write to removable media like a USB stick. You can then "test drive" the OS live. If you like the experience, you can then install Fedora to your system. While Live USB has been around for a while, the Fedora Media Writer is a highly polished and user-friendly experience.
MP3 decoding support
This release includes a plugin for MP3 decoding such as playing music. If you play a MP3 file from your collection, GNOME Software detects it and helps you install the plugin.
Flatpak support
For developers, Fedora 25 Workstation introduces improved Flatpak support. These enhancements now make it easier to install, update and remove Flatpak software. The improvements make this application packaging standard more user friendly.
Extensions don't expire
Finally, GNOME Shell extensions are no longer compatibility checked against the GNOME Shell version. This check was required in the early days of GNOME 3 because interfaces underneath were changing quickly. Now these interfaces have stabilized. So your extensions will work better from release to release.
The team also says, "Fedora 25 Workstation now makes it easier to for Windows and OS X users to get started, with Fedora Media Writer serving as the default download for those operating systems. This tool helps users find and download the current Fedora release and write it to removable media, like a USB stick, allowing potential Fedora users to 'test drive' the operating system from that media environment. Fedora can then be installed to their systems with the same process".
To download Fedora 25 working station click here
However installing Fedora and linux kernel based Operating system are very easy and take less time compared to windows
Follow the steps to install Fedora 25 on your hard disk, Vmware, Virtual player etc( Installation is similiar)
Step 1: Run your vmware and click on "Create New Virutal Machine"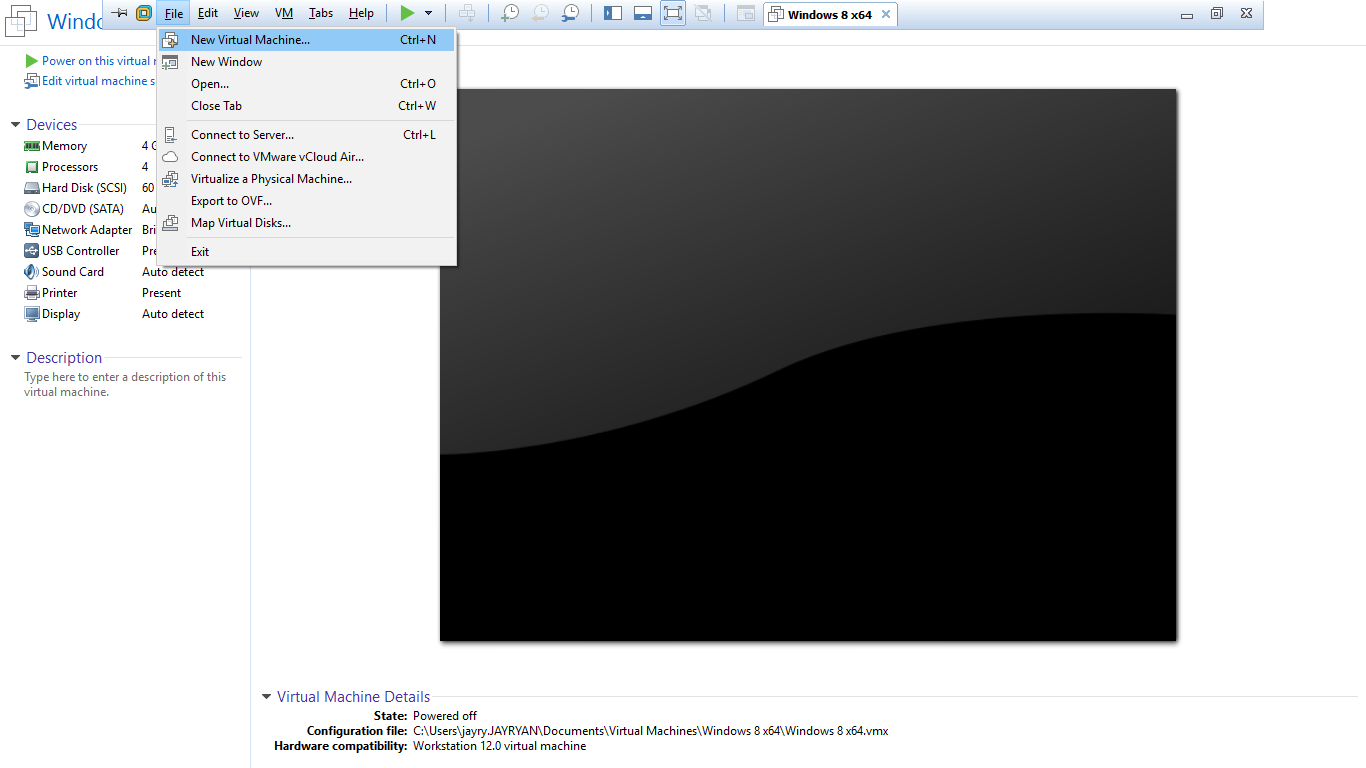 step 2:After that, double click on the Icon which is named VMware Workstation.It is located on the desktop. Clicking on File –> New –> Virtual Machine… this screen will appear, then choose Typical –> Next.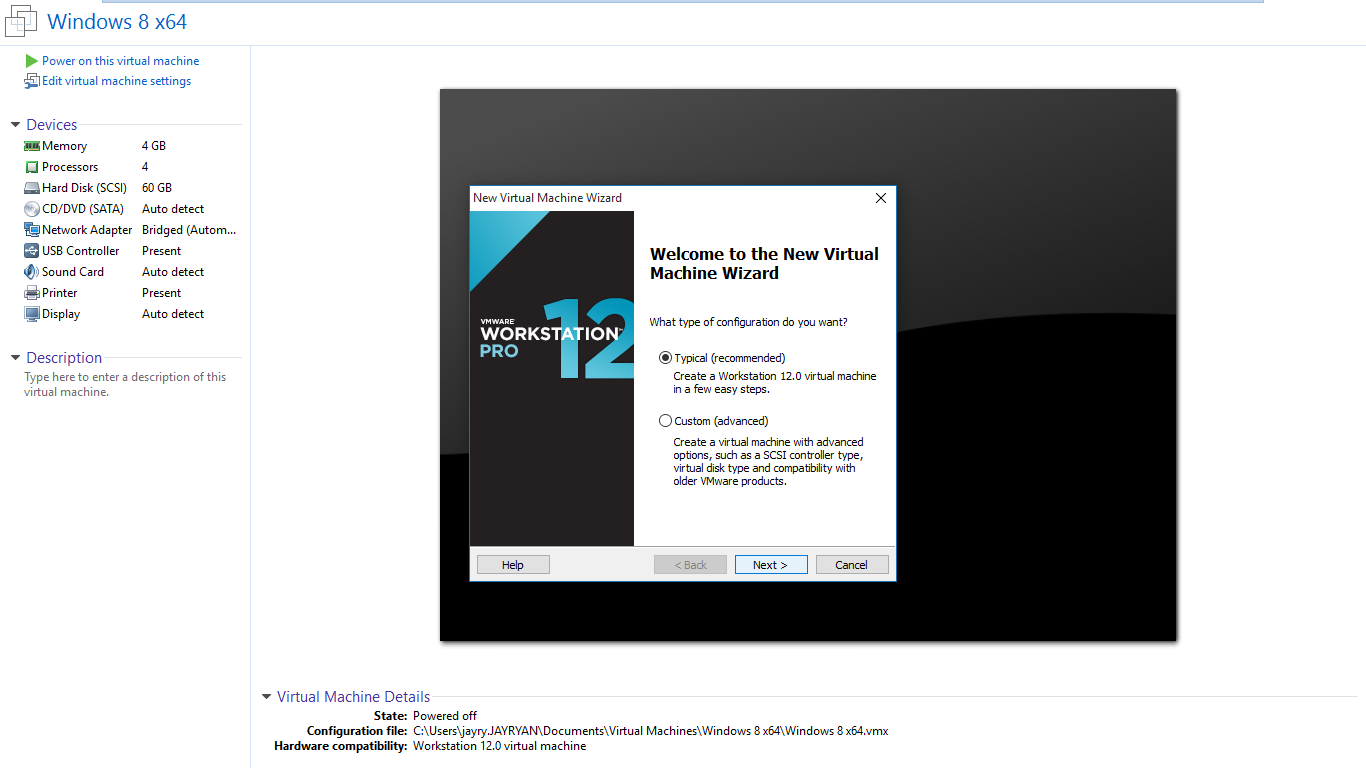 step 3:If you have software in DVD which contained software that you want to create, choose Install disc. Otherwise, Choosing the Installer Disc image file (ISO) software application with extension ISO.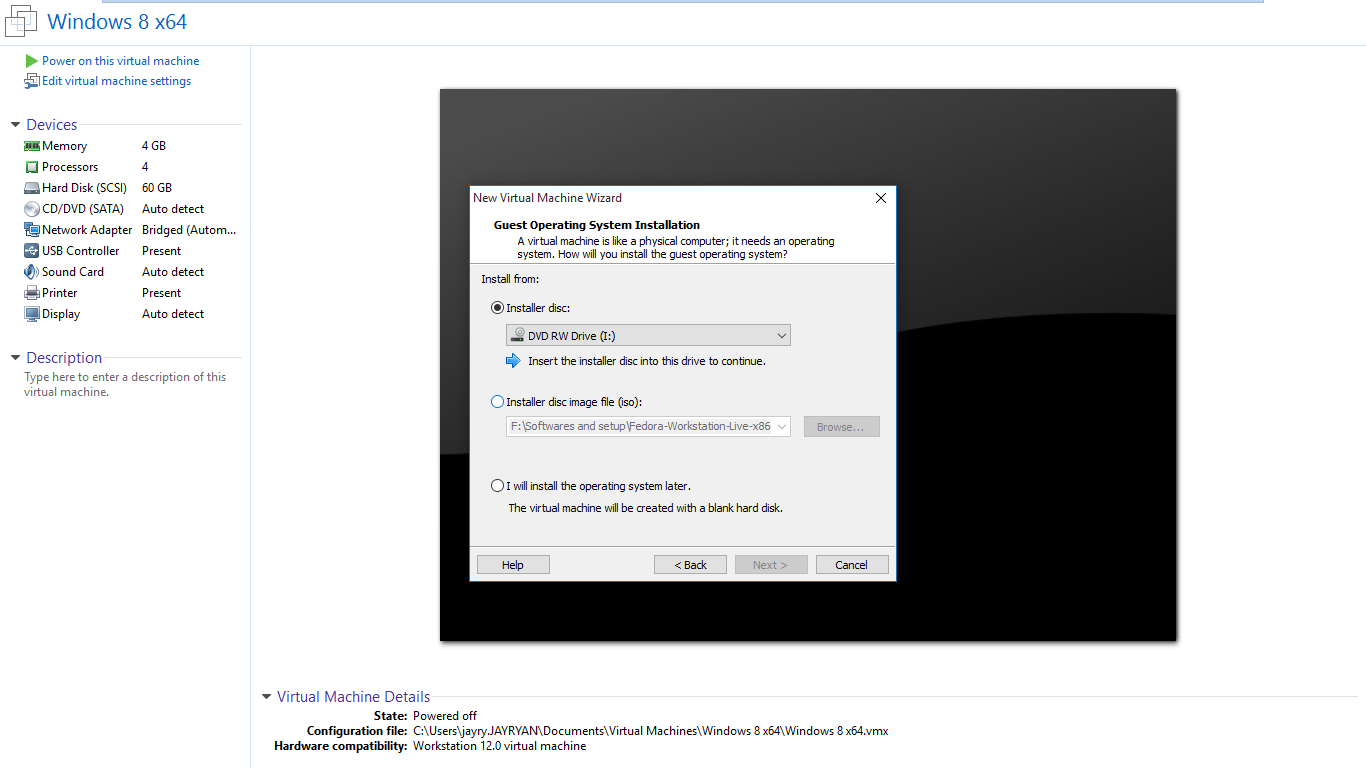 step 4: Select your downloaded Fedora 25 iso file from getfedora.org. and click open

step 5: Give the Virtual Machine Name and click Next.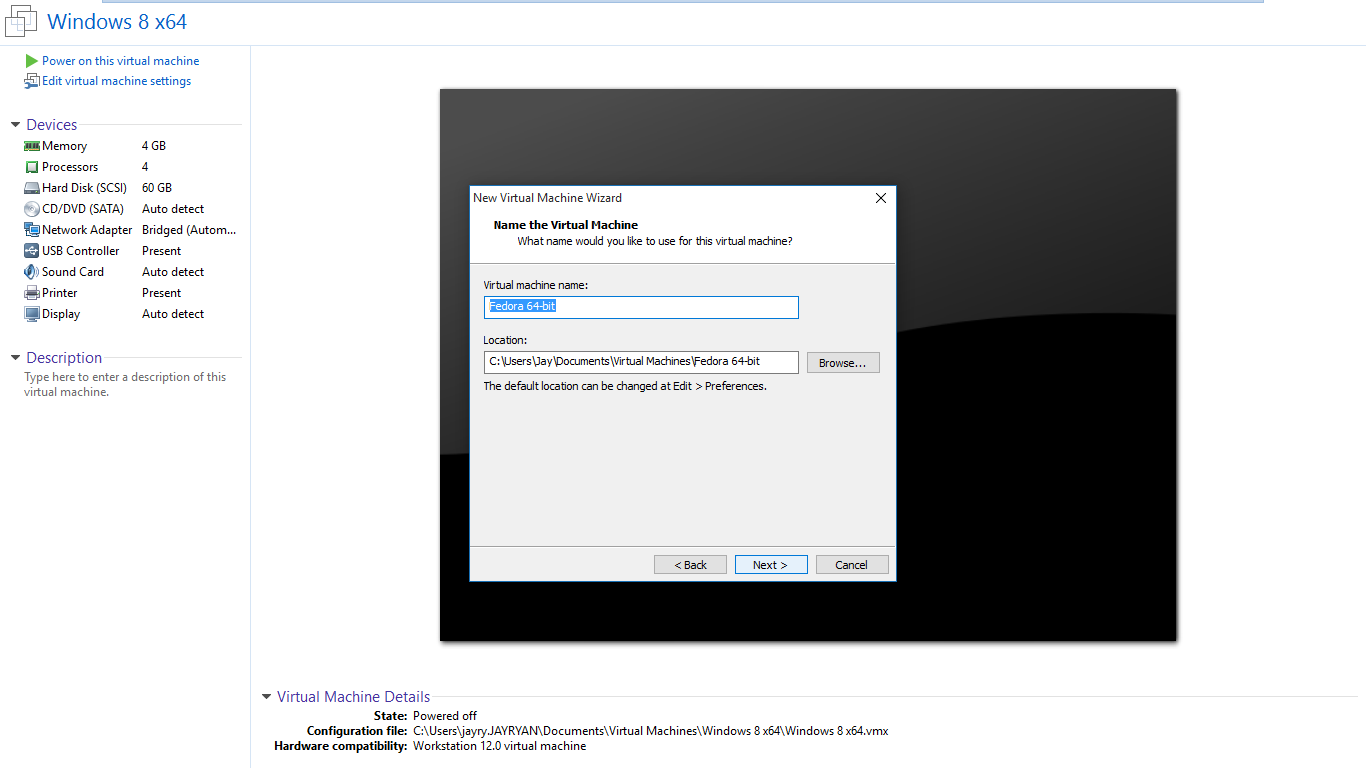 step 6:Setting maximum disk size (GB) as 8 and choose the option "Store virtual disk as a single file" , then hit "Next"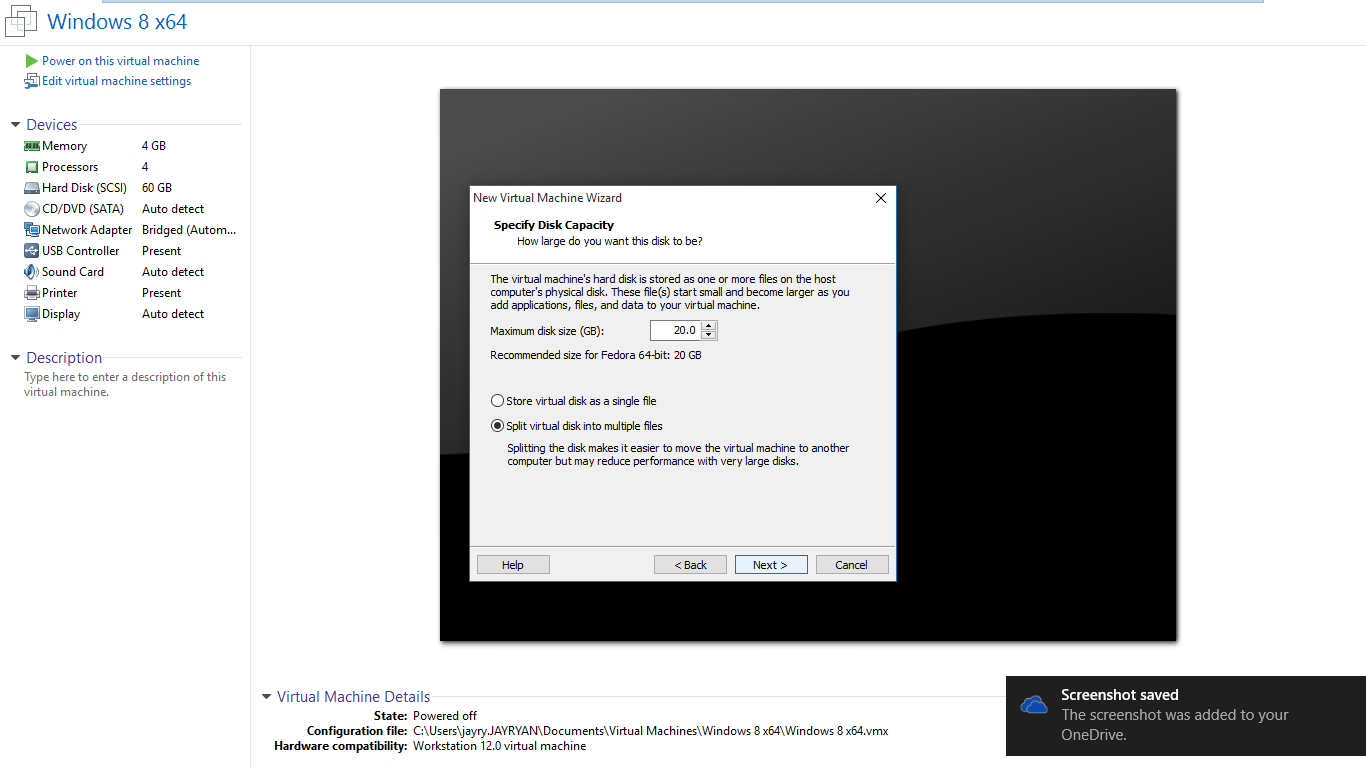 step 7: Click on Finish your Virtual Machine of Fedora 25 has been created.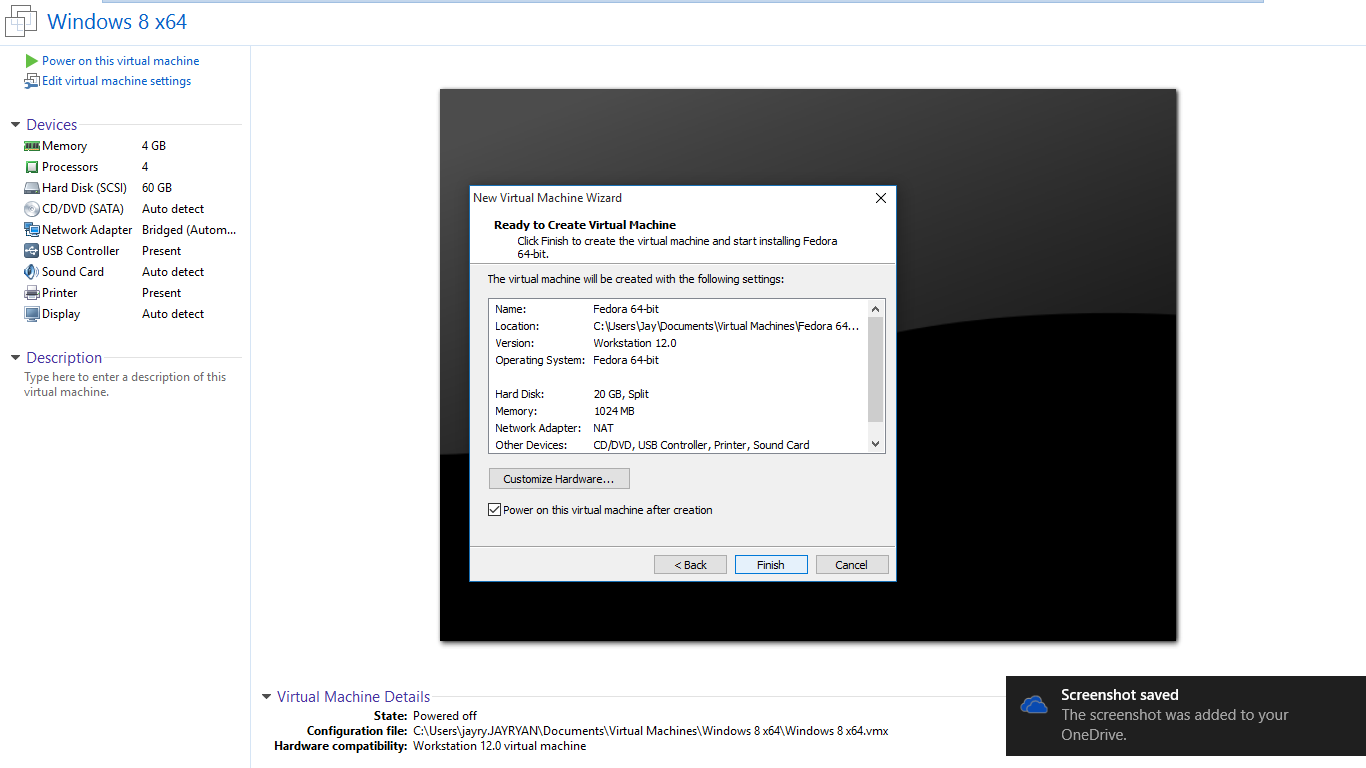 step 8: click on the "Power on the Virtual Machine on the top left" The Fedora 25 gets booted up by your iso image which has been download from their website.It will automatically reboot and take you go to this screen.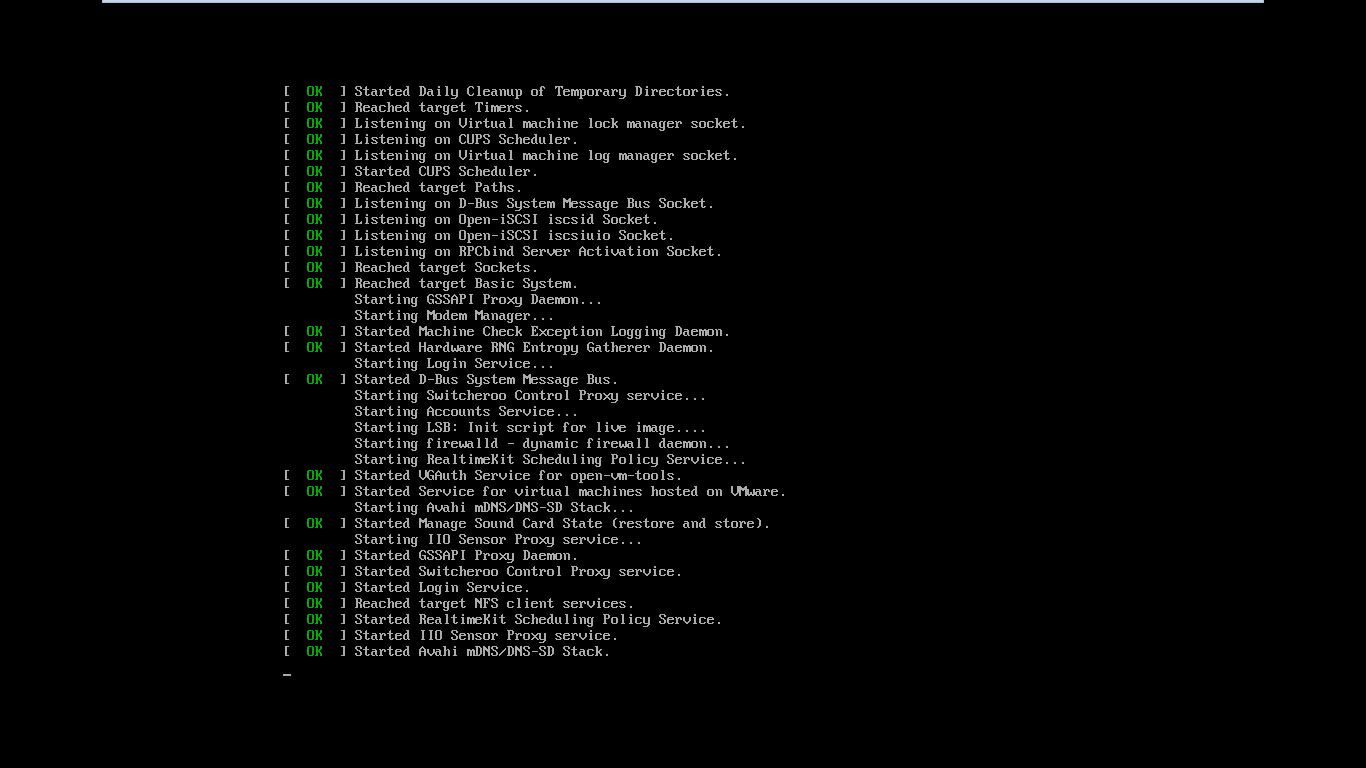 step 9: Fedora gets booted up and you will have option of installing the fedora os to your hard drive or live boot the os. you can choose anyone depending on your requirements. I am going to live boot and then Install the OS.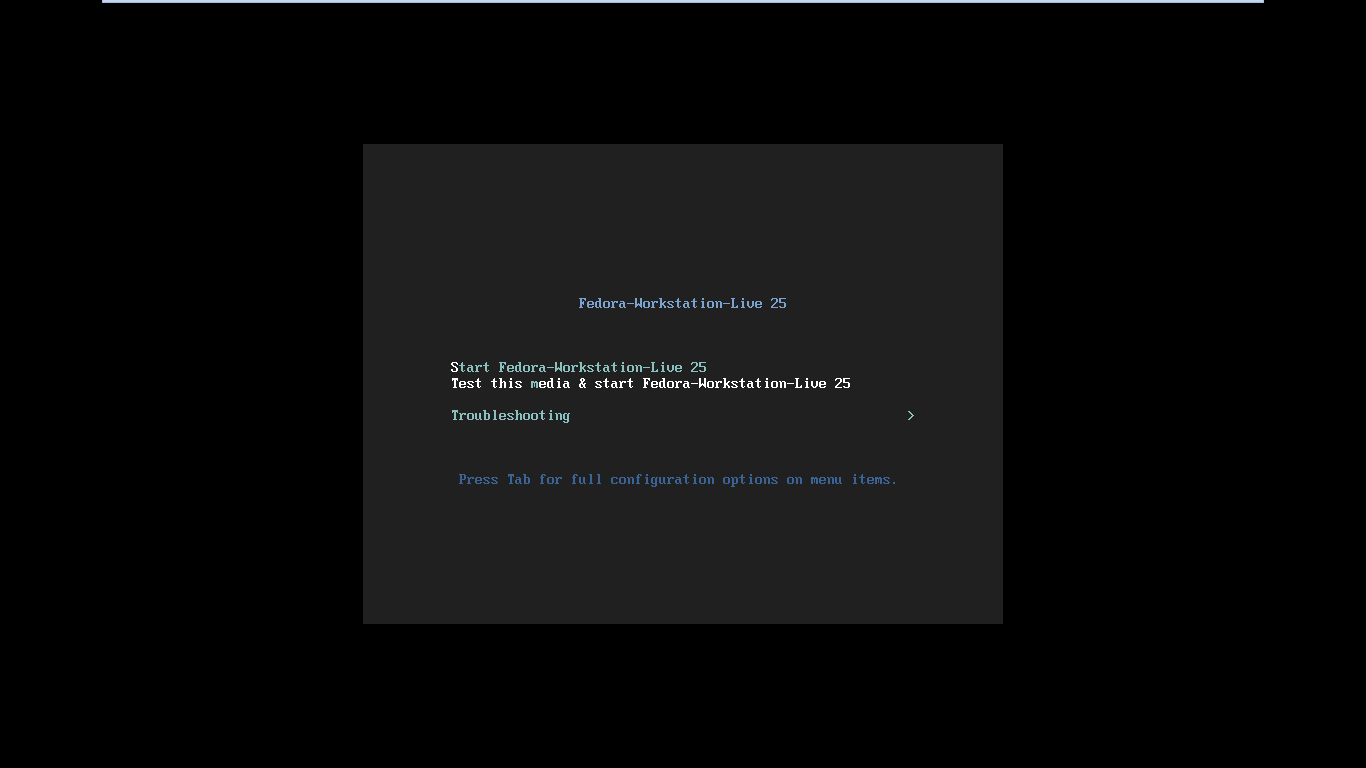 Use Arrow keys to Move up and Down and select "Start Fedora-Workstation Live 25"
step 10: Fedora 25 boots up and live within seconds To install Fedora on the Hard disk Click on the "Activities" on top left.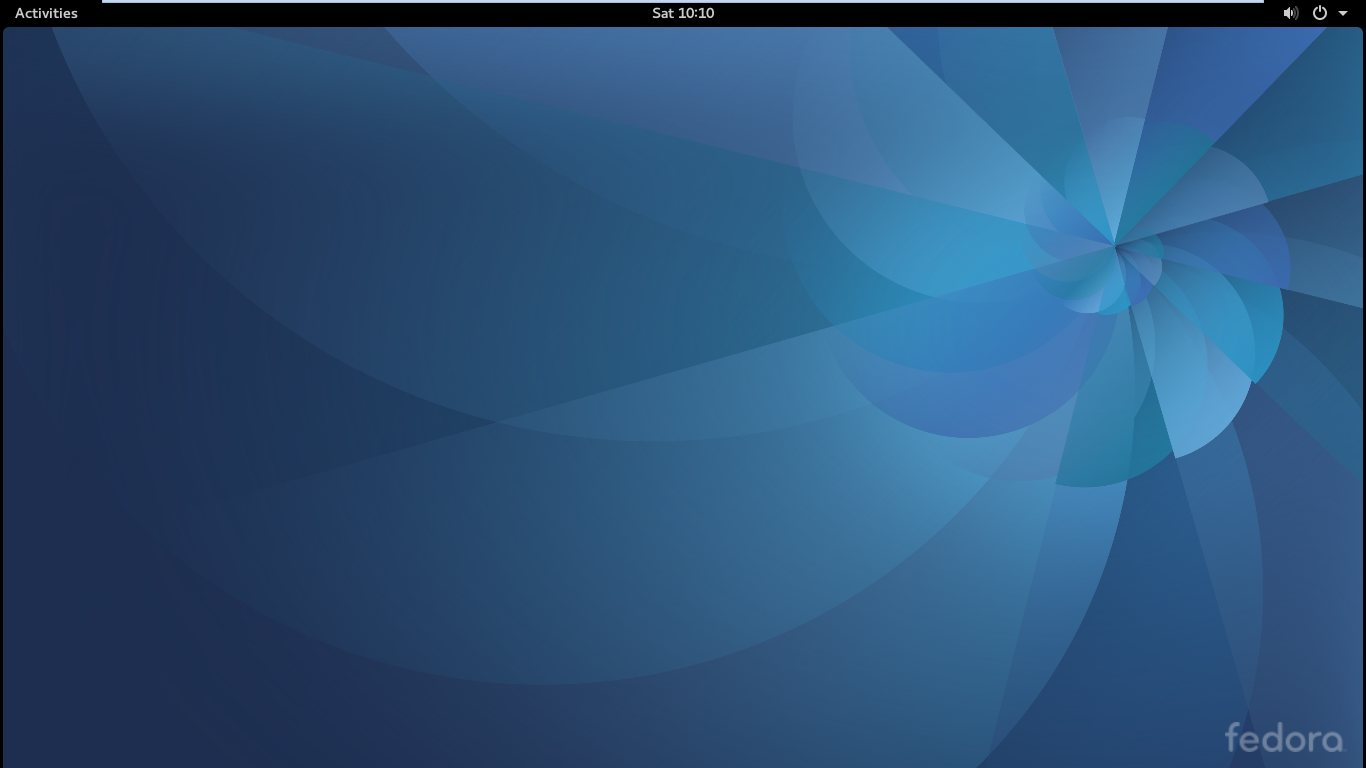 Or hit windows key you will get the Side bar to Install Fedora on hard drive
step 11: Click on the icon of Install Fedora on the Hard drive.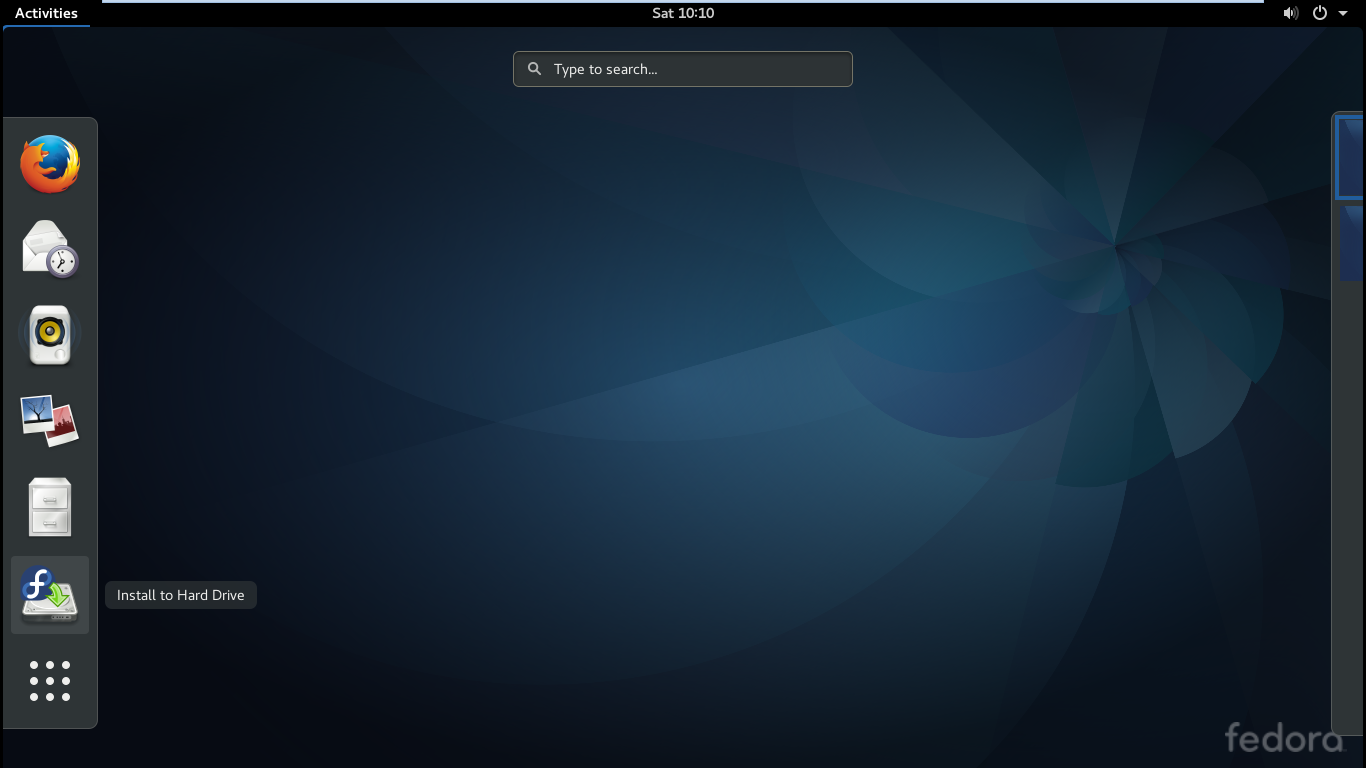 Installation is Pretty much basic select your Language and Region and click Next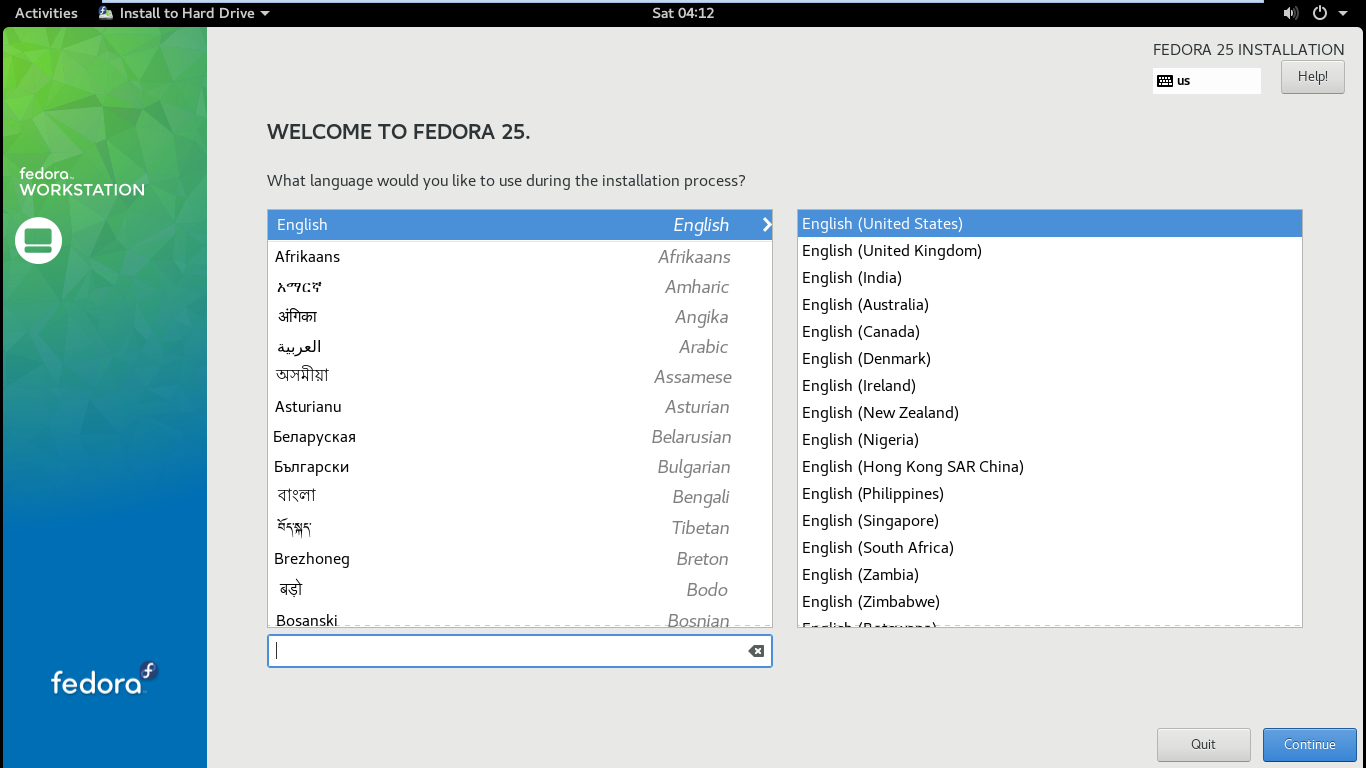 step 12: Before installing the Fedora on your hard drive you must select the drive where you need to install Fedora. Click on the Installation Destination and double click your Hard drive.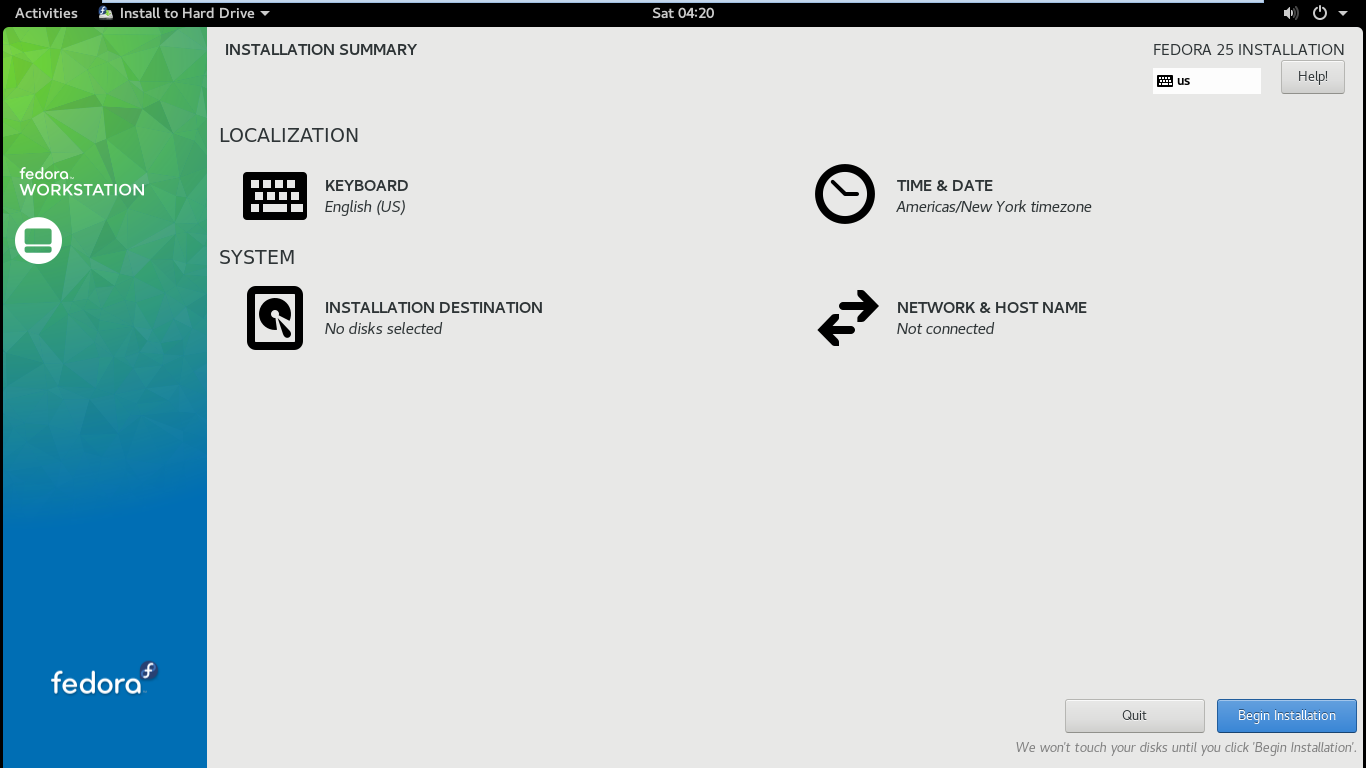 Step 13: If you did not Select you Installation destination The "Begin Installation" option will be greyed out. Click Done after selecting the drive and begin installation.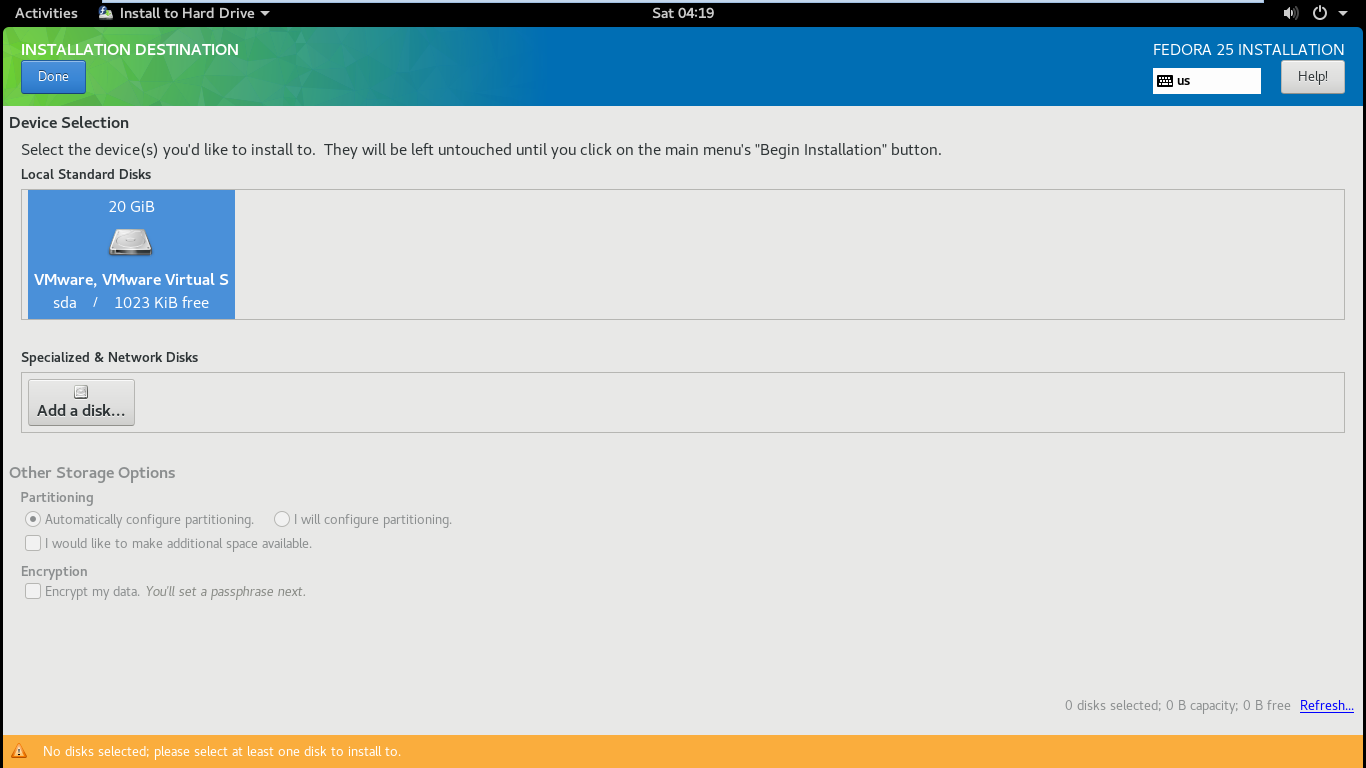 step 14: The Installation process begins Meanwhile you can setup your root password and it is necessary to create a user account including the root. As the Installation process set up your root password.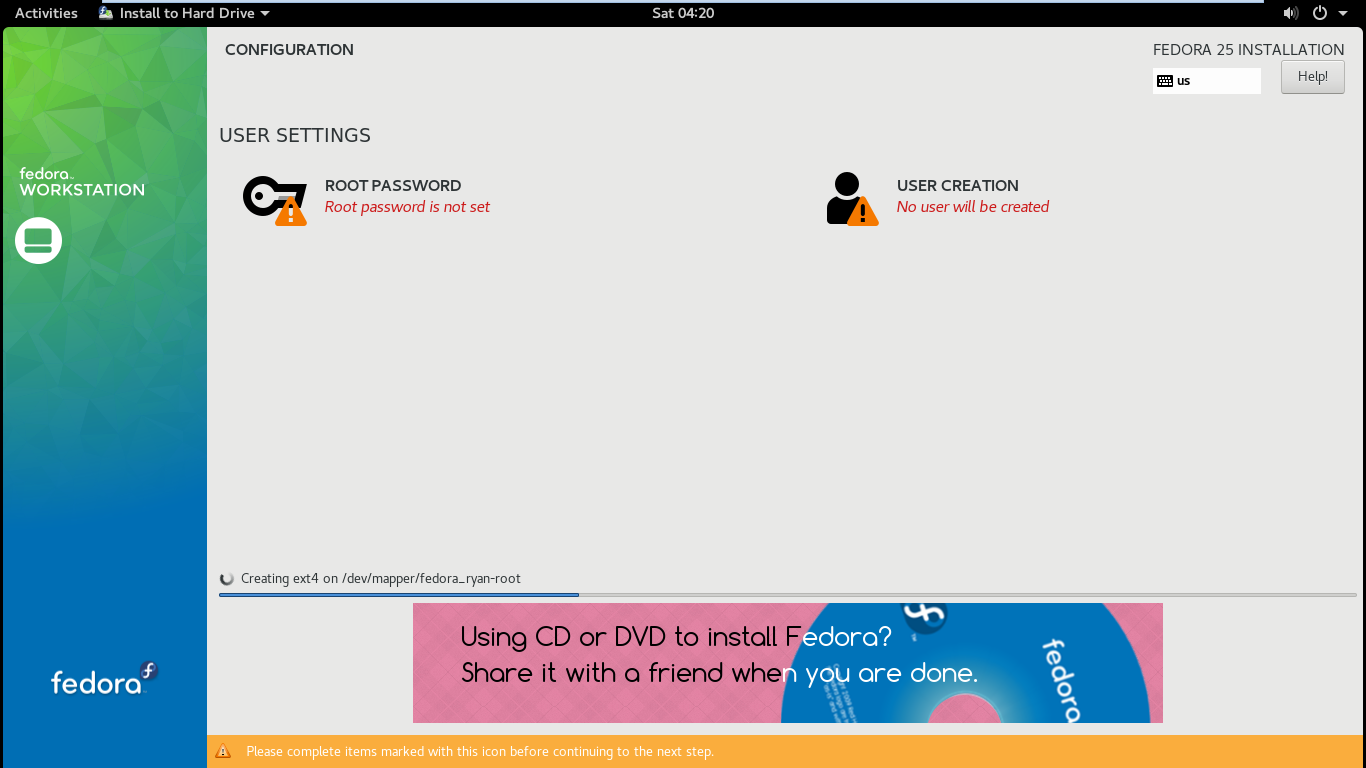 create an user account and with the password.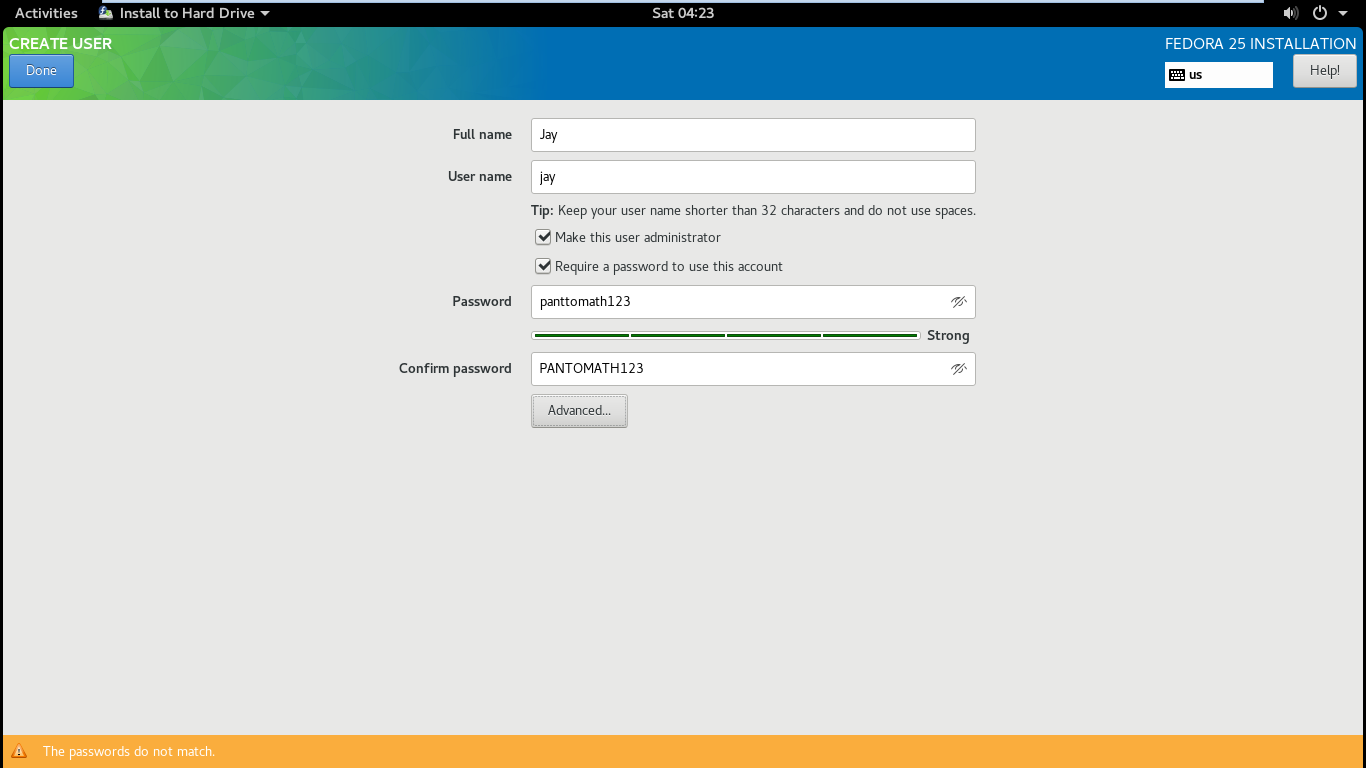 wait untill the complete installation is done Installation take less than 5 Minutes. Increase your Ram in virtual Machine settings if you installation is Slow. Once the Installation is complete just restart once and your all done.